Okay, I know some of you are taking a double look at this post…nope it's not déjà vu! To all my readers out there, it's just that my good blogging friend Joi over at "The Rx Fitness Lady" is hosting her

"7 Day Mini Blog Challenge Party"

all this week and today's challenge is either a "Monday Blog Commercial" or "Confessions of a Blogger". Since I.don't.do.confessions.to.anyone.but.Jesus(bahaha), then I'll do a
blog commercial. I know I'm cheating(a little bit), BUT Joi…you're the one who's so adamant about recycling, so I thought to myself…"hmmm self", "why not recycle this post,", lol! I'm assuming that my BLOG video would suffice(seeing as if it was just introduced last week)…right Joi?! Hahaha! So here's my post from last Wednesday introducing my new blog design and my new video. I get to kill two birds with one stone…HA! Btw Joi…I gave him the text AND the final approval(so technically I did contribute, lol). To everyone who's already seen it, go see it again…you know that song is catchy! Read on….well, look AND read on!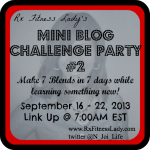 Whoop whoop! Yes, things have definitely changed around here at

"Prowess and Pearls"

, wouldn't you say? I told you guys I had a surprise for you this week…so tell me what you think? Who, you ask do I owe accolades to for this lovely design, none other than the lovely Tricia Nae over at

"Tricia Nae Designs"

! How did I find her? Well the lovely

Heather

over at

"Notes From the Nelsens"

had a giveaway for a free blog makeover and yep, you guessed it…yours truly won! So thank you Heather for the great opportunity! You guys should go over and show Heather some love(her design was created by Tricia as well)! Back to Tricia! When I tell you I'm a difficult client, I'm not lying. I can be a pain when it comes to detail about.EVERY.little.thing! I know I got on her nerves(she never said I did, but I know I did), lol! Hey, I got on my own nerves! Anywho, I wanted to go clean and simple and I think she captured that, don't you? If you want professional service, as well as someone who "gets it" AND on top of that, goes above and beyond the call of duty...then Tricia is your gal! I told her what I wanted and we tweaked a few things and viola…here's the final product! She's awesome to work with you guys...a real sweetheart! Make sure to visit her site by following the link above.
I realized over the past several months I've been featuring my family, but I failed to say anything about our oldest son(who's the middle child like his dad and I). You all know about that "middle child" syndrome right!? Anyway…do you all see that lovely video on my sidebar? Yep, that one right there on the side...well my handsome son Joel did that. He's a beast with commercials, producing and videos AND he's an awesome singer/songwriter as well y'all…A BEAST I tell ya! :-) I told him what I was looking for and he delivered! So let's recap…a BIG thanks to Trica Nae, Heather and Joel for making my blog design come true! SN...you may want to adjust your volume...don't want to startle you with the music. :-D
The BEAST! :-)
Ooops, I was so busy talking about MY DYW, I guess I need to say something about "Doing YOU WELL Wednesday" huh?! You all know what to do…link up your favorite blog post(s), let us know how you're "doing well" this week, visit some blogs in the link-up and show them some love and encouragement. Don't forget to let them know you're dropping by from "DYWW". If you follow me, be sure to let me know in your comment. Before you leave make sure to peruse the blog for all my new updates(including my pages under the header). Did you notice the POLL on the sidebar? I'll be posting a new one every Monday…make sure to leave your vote! Be on the lookout for some new things I'll be adding to my blog in the future as well! Until next week…I call you blessed!! PS....be sure to join us on Friday for

"Michell's Weekly Pearl".
*It would be remiss of me to not mention anything about 9/11. In honor of all those who lost their lives and the families they left behind...you will never be forgotten!*
*Enter your email below to receive
notifications of new posts*